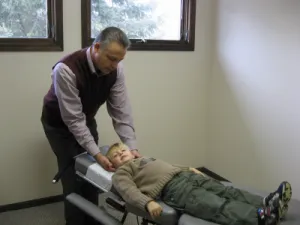 We value our patients' experience at Hicks Chiropractic. If you are currently a chiropractic patient, please feel free to complete the following Client Experience Questionnaire and bring it into our office. The Questionnaire is in Adobe Acrobat format, and requires the free Acrobat Reader to view.
Download & Print Questionnaire
Dr. Gregory Hicks
Your Milford Chiropractor
---
I have had sinus problems for 25 years. It caused me to lose my voice every year and I love to sing at my church. I was also unable to smell or taste food for years. Now, with regular chiropractic care along with nutritional supplements, I have regained my sense of smell and taste. Also, I have not had to miss singing for my church on Sunday mornings thanks to Dr. Hicks!
-Barbra R.
---
---
In 2006, I was scheduled by a Cardiologist to have a Heart Catheterization. I had been having constriction and tightness in my chest, so I sought the opinion of Dr. Hicks. He showed me where my neck was subluxated and told me he was sure an adjustment would remedy my situation. He was right! I felt immediate relief and my symptoms have never returned.
-Jeannine K.
---
In May 2010 I had been hit in the head with a softball and had a concussion. Soon after I began having severe migranes and headaches. After two MRI studies, the medical doctor prescribed me Sumatriptan which is a painkiller. I suffered from the migranes for 14 months until I met Dr. Hicks. He gave me my first adjustment and my mom and Dr. Hicks noticed that the color in my face went from pale to pink immediately! My migranes have disappeared and I rarely even get a headache. Thank you Dr. Hicks!
-Brenna B. age 17, South Lyon
---
My husband and I were apprehensive about seeing a Chiropractor but Dr. Hicks put us both at ease. The treatments we have received have helped both of us far beyond our expectations. Not only have the adjustments been beneficial but our eating habits and sleep patterns have greatly improved. Dr. Hicks listens to our concerns and keeps finding ways to improve our well being. Both Joanne and Dr. Hicks have made us feel a part of their family.
-Elizabeth & A.J. _______________________________________________________________________
Some of our most memorible cases of successful healing as told by Dr. Hicks and Staff:
Mark H. recently came to our office suffering with Trigeminal Neuraligia caused by a severe blow to the head. The pain in his face was daily. He had headaches and spontaneous jolts of excruciating pain triggered by touching or moving the face by talking, chewing, etc... He could only eat soft food and couldn't chew meat without severe pain. After having an MRI and CAT scan, his medical specialist prescribed him pain killers, but the pain persisted. He later read an article that stated that Upper Cervical Chiropractic has been successful in treating his condition. His search online for an expert in Upper Cervical lead him to Dr. Hicks and after less than 3 weeks of treatment, his condition had greatly improved. Mark happily reported that he was finally able to eat meat without having any pain!
Karen M. was referred to our office by a friend of hers who was a patient of Dr. Hicks. Two years prior, she had been diagnosed with Fibromyalgia by her medical doctor. After struggling with severe aches, pains, and fatigue, she came to the realization that the medications that her medical doctor had prescribed to her were doing her no good at all. She became very depressed and discouraged. When it was suggested to her to see Dr. Hicks she was skeptical yet hopeful to the idea of perhaps finally getting the help that she so badly needed. Upon examination, Dr. Hicks quickly determined that Karen was suffering from a chemical toxicity. When he disclosed to her what type of chemical it was, she immediately knew that it was the same chemical that was used to clean the machinery in the factory where she worked. Even though she had never had physical contact with the chemical, she had been breathing it in for several years. Dr. Hicks placed her on a 2 week detoxification program. After the first week she said that she was feeling 75% better and by the second week all of her symptoms that she had suffered with for 2 years were gone!